Safety & Rescue Textile Design
A. Smith and Son, Inc is the proud manufacture of a quality line of SEVEER® stretchers and Flexible Stretchers.
Flexible Stretchers :
Five Year Warranty
One Piece Construction for ease in cleaning
Reflective Stripes, Safety and Protection
Six Sturdy Handles
Various Colors to choose from
Pocket for storage: gloves, papers, victim's belongings,etc.
Seveer Stretchers:
Seveer Flex One "The Classic"
The standard in Flexible Stretchers, this product is great for moving patients from difficult situations, winding stairs, embankments, etc.
Three Cross web straps secure patient within the wrapping flexible stretcher
Opens to 6'6", closes to 4'10" x 8 "
Internal pockets at both head and foot for storage of patient's belongings, data sheets, etc.
Seveer Flex Five "Covered Mortuary"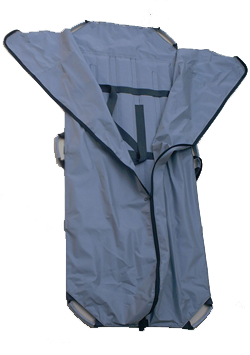 Zippered top flap, made of 10 oz vinyl coated nylon
3 Web straps secure body for easy transport
Opens to 6'6" x 28", closes to 4'10" x 8"
Top cover hood for discrete transport of body
Seveer Flex Five-Oh "Covered Mortuary"
Same Feature as Flex Five
New Design allows top cover to flip to one side, easy to use for roll of body onto a stretcher
Special Features included in all models:
Five Wooden slats securely sewn in pockets for stiffness and body
Slats can be replaced by the customer if necessary
Storage pockets both at head and foot area for personal belongings, gloves, sheets, padding, etc.
Reflective tape on each side for visibility & safety
18 oz. vinyl laminated material, super strong, resistant to acids, alkali, anti-bacterial
Specially designed one piece top layer for cleaning
Special design nylon web carry handles, easy to clean
Five Year Warranty