About A. Smith & Son, Inc.
The right product, at the right time, at the right price

A. Smith & Son, Inc. is a certified Small Business Establishment dedicated to the custom fabrication of canvas, textile, and web products to customer's specifications. Whether it is samples of one or two, or production runs of thousands, the company prides itself in its ability to be efficient and competitive.
"Working directly with the customer is one of our hallmarks," says Rudy Smith, president of the company. "We create products by talking over the phone, or using sketches on napkins, or diagnosing multi-page blueprints/spec sheets as supplied by the military sector."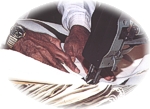 Mr. Smith is the fourth generation of his family to work in the textile business. He has a degree in mechanical engineering and also in fine arts. "We find excitement in the challenge of learning more about our customers, obtaining greater knowledge of our trade, enhancing our products, and making life a little better for everyone."
Our Corporate Directive maintains: "Customers are our most valuable asset and are to be treated equally with the same respect and attention, regardless of the size of their account." "...If ever there arises a situation where quality or profit must be compromised, compromise on profit. In the long run, this is the more profitable solution." (Only in a close held family business could this be stated.)
"If my name is going to be associated with a product, it better be right."

Quality since 1867